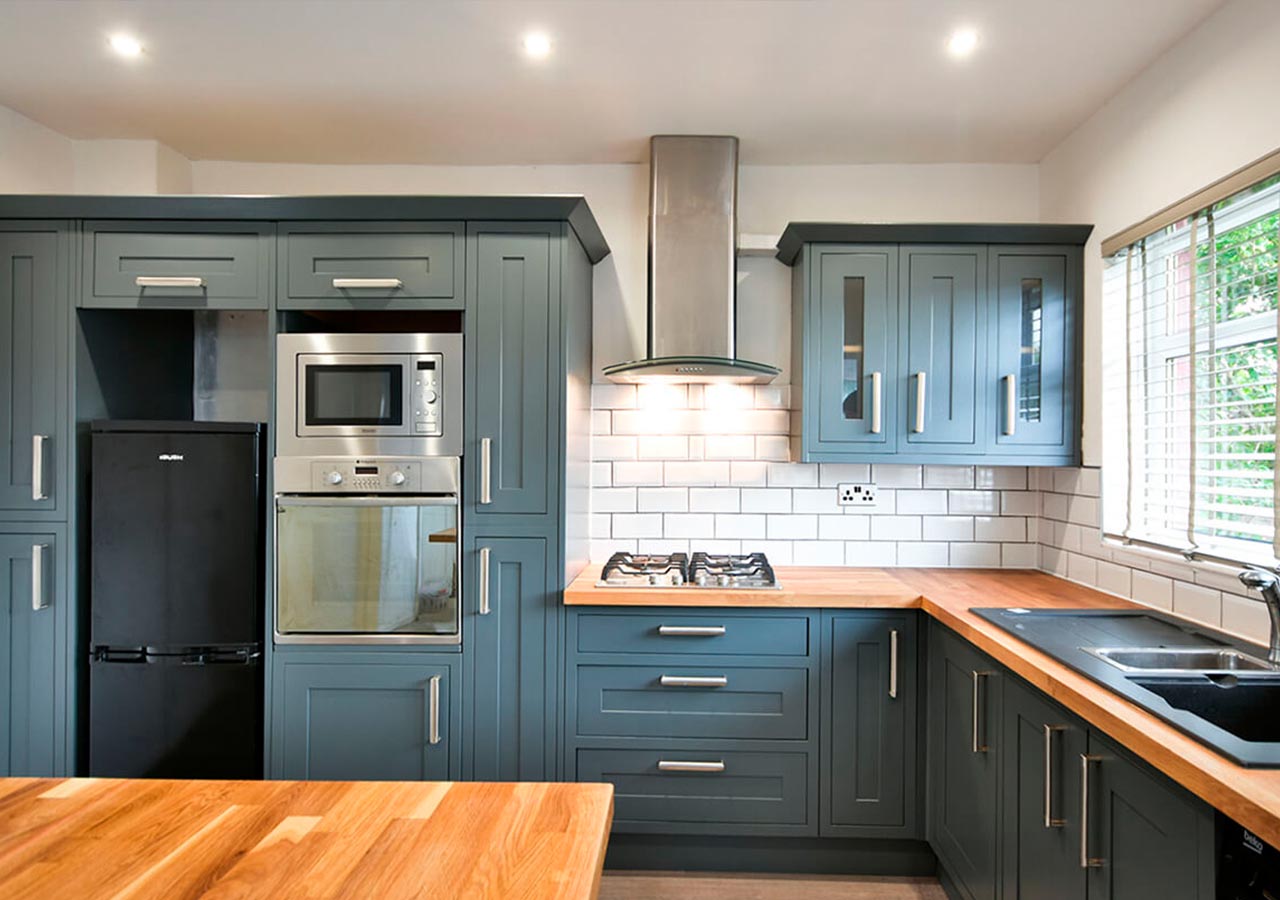 Professional Kitchen Respray in Dublin
Give a complete makeover to your kitchen
Kitchens are an integral part of our homes. We spend countless hours in our kitchens, even with our family and friends. No wonder all of us want to keep our kitchens shiny and new.
Sadly, cooking takes a toll on your kitchen and exposes it to wear and tear. Years down the line, you notice your kitchen paint peeling off and cabinets looking dull. You start thinking of replacing your kitchen furniture, but that is not required.
Luxury Dublin Painting is here to help you turn your kitchen brand new once again. Not only that, but you can also give your kitchen a complete makeover. Choose your style, colours, finish, and more to make your kitchen extra exciting without breaking your bank!
The Best Kitchen Respray Team in Dublin
For end-to-end kitchen painting and decor
We are a professional team of painters out to make your kitchens happening. From cabinets to windows, we can respray anything and everything. Whether it's PVC or metal, we can cover it with the paint of your choice for perfect kitchen resurfacing. Our team is also a master of superior finish, giving you the desired outcome of your dream kitchen.
Respraying your kitchen is a great way to give it a new lease of life. Your kitchen surfaces look refreshed, and you can even cut back on maintenance. You will not have to spend your hard-earned money to retouch your kitchen every year. We make sure our respray stays strong for years to come.
Our team has handled countless projects around the country to offer you the best results. We help you save money and make your home look stunning with minimal investments. Get in touch with us to discuss your project and get started on transforming your kitchen.
How Much Will It Cost
Kitchen respray cost in Dublin
Respraying your kitchen is affordable and convenient. You will not have to spend thousands on replacing your kitchen furniture or accessories. We can respray your kitchen at almost one-fourth of the cost.
What you need to pay will depend on many factors, like the size of your kitchen. Plus, some surfaces may need special treatment before we spray paint. Contact us directly or request a free quote to initiate your project.
Why Choose Us
The perks of working with us
Luxury Dublin Painting has resprayed endless kitchens since its inception. We are familiar with the preferences and tastes of Dubliners like no one else. Our team is highly professional and treats each project as our priority. We also tailor our services as per your needs to go beyond your expectations.
You can also look forward to zero mess and prompt clean up after we finish. We use only the high-quality materials that your kitchen deserves. Work with us to make your kitchen into an envy and a special part of your home.
What our clients say:
My kitchen needed a makeover very badly. The paint was coming off from the furniture and tables. Luxury Dublin Painting turned out to be a good choice that paid off well. They were able to achieve a fine look for my property, and things now look completely new. Highly recommended!
I was looking for a specific type of finish for my kitchen. Almost no one in Dublin was able to help, let alone offering a good rate. I finally found Luxury Dublin Painting and thank my luck for it. They did a wonderful job and attended to all cracks and gaps on the wood.


Professional
and Reliable